The art world descended en masse upon Manhattan during the first week of May for the inaugural edition of New York Art Week, the far-reaching partnership between museums, galleries, art fairs, and auction houses focused on highlighting "an unprecedented offering of global art market events and institutional exhibitions," according to the
initiative's website.
The weeklong programming had at its heart a quartet of fairs scattered across the island, many of which were returning to more standard operating procedures after years of pandemic-induced disruptions. Between the New Art Dealers Alliance (NADA), The European Fine Art Fair , Future fair, and Independent, art lovers had a wide variety of artists to see and forums to see them in.
"Calm" was the adjective on everyone's lips as the weekend came to a close. After the relative buzz of the various VIP openings, the fairs settled into a steady clip of leisurely attendance, with many exhibitors commenting on the unexpected opportunity for deep conversation with collectors and curators alike. The hypotheses for this laid-back atmosphere were multiple—some gallerists thought the concentration of different fairs all in relatively close vicinity made for a more spaced-out attendance situation; some suspected that the looming behemoth of Frieze New York inspired a calmer approach; still others blamed the nonstop bad weather. "The pace was definitely dampened," joked gallerist Luis de Jesus on Sunday as gray skies and cold weather lingered outside for the third day in a row.
Karla Diaz
El Matón, the Night Stalker
,
2021
Luis De Jesus Los Angeles
Sold
Despite the seemingly more measured cadence, however, many galleries left the weekend with a hearty batch of sales. Painting predictably dominated the proceedings, and galleries that featured figurative artists and vibrant large-scale canvases could reliably expect to sell well.
REGULARNORMAL's lush presentation of paintings and sculptures by

was the center of considerable attention at Independent. The gallery's green silk–laden booth featured several stunning paintings by the young Dominican-born artist, including the large-scale Bayahibe (2022), which sold for $20,000, and a series of three smaller paintings affixed with swords that sold for $14,000 each. The gallery also sold three ceramic sculptures that incorporated everything from switchblades to conch shells for prices ranging between $2,000 and $5,500.

MASSIMODECARLO sold out its solo presentation of works by Los Angeles–based abstract painter

at TEFAF within the first hour of the fair. The bold, imposing abstractions, which feature whorls of smeared color alongside more frenetic jagged marks, sold for prices ranging between $40,000 and $85,000.

At Future, Galerie Droste sold out its presentation of works by German artist

, who often works under the pseudonym Wayne Horse. Eilers's large-scale grotesqueries, which depict the twisted visages and intertwined limbs of what appears to be partygoing socialites, sold for $18,500 apiece to a mixture of new and existing clients.
Piotr Uklanski
Untitled (Young Elsie Maquet)
,
2022
BEERS London had a similarly successful showing at Future, selling all six of its works by Spanish artist

. Mora's flat, blocky compositions of domestic settings and figures with their faces turned away sold for prices between $9,000 and $13,000. BEERS also sold two of

's vivid geometric abstractions in the range of $7,000 to $10,400.

Perrotin sold two shimmering abstract works by Norwegian painter

to two institutional clients for prices ranging from $250,000 to $500,000 at its TEFAF booth. The gallery also sold an abstract work by Hans Hartung in the same price range.

Montauk-based gallery the Ranch sold a number of haunting yet playful oil paintings by the artist Renate Druks, an actress and underground film icon whose paintings have gone largely unnoticed since her debut solo show in 1957. The Ranch sold eight of Druks's mystically surrealistic paintings at Independent, many of which feature depictions of cats, for prices ranging from $25,000 to $55,000.
PAGE NYC sold out its presentation of work by the Los Angeles–based artist

, whose vivid, large-scale works feature distinctive feminine characters in situations ranging from a serene bath scene to a dreamlike grappling with a long-limbed crab. The five paintings went for prices ranging from $20,000 to $30,000.

CLEARING sold out its two-person presentation of bronze sculptures by

and large-scale floral paintings by

by the end of the weekend, with all the works selling at $80,000 apiece.

Harper's sold an array of works by contemporary figurative painters at its NADA booth, including three deep, mysterious compositions by artist

depicting statuesque figures alone in darkened sets for prices ranging from $7,500 to $18,000, as well as a wispy, bright-hued, near-abstract canvas by

for $55,000.
Ho Jae Kim
A Drop of the Divine
,
2022
Sold
Despite the preponderance of painters among the sold-out booths, craft-based practices also made a strong showing, with mixed-media assemblages and fabric-based works garnering plenty of attention across the various fairs.
Kasmin's presentation of multimedia sculptures by the artist

was one of Independent's buzziest booths, with visitors flocking to see the vibrant assemblages well into the weekend. The works were constructed out of materials ranging from shoes and books to braided hair and cowrie shells, while the nearby wall text listed such additional intangible components as "desperation," "therapy," and "love in the house at midnight." The gallery sold 11 works by the artist for prices ranging from $30,000 to $45,000 each.

Canada sold out its solo presentation of mixed-media tondos by

at Independent, which feature sutured-together swatches of canvas as well as other painted fabric elements. It sold all nine of Williams's works for prices between $20,000 and $26,000.

At Independent, Chicago-based gallery moniquemeloche sold out its presentation of mixed-media works by

. The works, which riff on classical portraiture by combining materials such as wood, fabric, gemstones, and other found objects into multifaceted compositions focusing on Black sitters, sold for prices ranging between $20,000 and $40,000.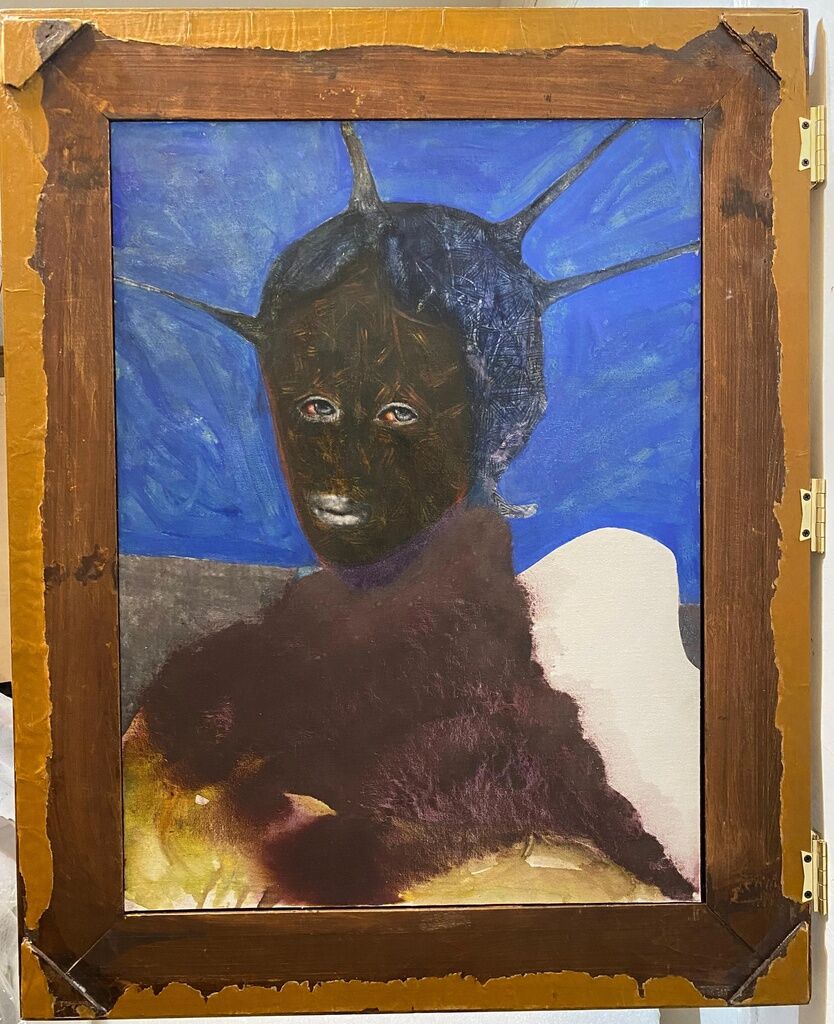 David Shrobe
Surveyors of Stars
,
2021
Sold
Painting and sculpture may have dominated much of the weekend, but novel approaches and practices could still be found. At NADA, the sort of digital artworks that were so noticeably absent from other fairs were on display at booths like Denny Dimin Gallery's, which featured computers playing
's video game/video art piece Fuzz Dungeon on loop alongside paintings of old-school arcade consoles by
, as well as at the booth of downtown digital art mainstay bitforms gallery, which included the software-driven animation Does The River Flow Both Ways? by
and James Schmitz.
Elsewhere, anonymous gallery presented an impressive restaging of Elliot Reed's installation Rhythm, which features three Ducati motorcycles alongside stage lights and speakers, as well as a separate video work and a wall embedded with knives. As of the fair's close, two editions of the video work had sold for $4,500 each, and the installation had been put on hold for a public collection. "I'm extremely proud of our ambitious presentation, and fairly satisfied with interest from collectors," said director K.O. Nnamdie. "We hoped commercial reaction would more immediately reflect Reed's institutional interest—despite the challenges some of the work presents."
On the whole, the first edition of New York Art Week felt like an experiment in carving out a space for a different, more approachable sort of New York art fair experience. It may not have been the high-caliber sell-a-thon of fairs like Frieze or The Armory Show, but the weekend's more relaxed pace and focus on earlier career artists and accessible price points fostered a sense of excitement and connection that seemed to spill beyond sales figures. "I was very happy with the experience," said Dionne Lausberg, co-director of Queens-based gallery 5-50, who participated in Future. "It was my first fair, and I didn't know what to expect. The audience was so young, so fun. I can't wait to do it again." Put another way, by anonymous's Nnamdie: "New York is always the starting point."